Arrival/Dismissal Procedures
Our main priority is the safety of students and staff. All rules and procedures are designed with this goal in mind, so please help us keep everyone safe, happy, and ready to learn by using patience and consistency during arrival and dismissal.
Changes for 2021-2022
To further improve our process and increase student safety, during dismissal, we will now be using car tags. Car tags will be required to pick up a child through the car rider line. Parent/guardians of students will receive two tags at the beginning of the school year. If additional tags are needed please contact the office. 
Staff will be reading the car tags to call students names on the radio during dismissal. All car riders will be indoors and once called will head to the diamond lane to load vehicles. Staff will be on duty to direct traffic and assist students. 
We will no longer be allowing parents to walk up to the diamond lane doors, or flag pole doors to pick up students. This exit will be for students being picked up in the diamond lane only. Parents that choose to park in the east side lot will need to pick up their students from door S2. 
Students walking home or being picked up will be exiting door S2 which is located on the southeast corner of the building. 
Parents that prefer to park and pick up their students may park in designated spots on the north side of Carlisle, the east side parking lot, on Hoover or Danforth. The west side parking lot is reserved for busses and daycare vans.
Car Rider Drop-Off /Pick-Up Guidelines
When dropping off or picking up students, please follow the traffic flow in the map below and all instructions of AGS staff.
► Key point: Always pull up to the very end of the diamond lane during arrival and dismissal to allow for as many cars as possible in the "U." This alleviates congestion on Carlisle Rd.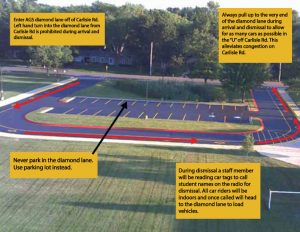 As shown on the map (download PDF version), you will be directed to fill in the diamond lane. All cars will be instructed when to move by an AGS staff member during the designated arrival and dismissal times. 
For the safety of all, students should only enter or exit the car from the passenger side in the diamond lane. Once a child is picked up or dropped off, motorists can cautiously move from the diamond lane into the left passing lane. 
If you arrive after the start of school at 9 a.m., please park your car in the Early Childhood Lot off Danforth Dr. and walk your child into the building through the main office to sign him or her in tardy.
► Per Illinois Law (625 ILCS 5/12-601.1), "A person, regardless of age, may not use a wireless telephone at any time while operating a motor vehicle on a roadway in a school speed zone."
Guidelines for Parents in Walking Distance to School
Stay on designated sidewalks and hold your child's hand when crossing streets. All AGS students will enter and exit the building through the AGS door on the east side adjacent to the AGS parking lot. Upon arrival, staff will meet students at the main door and escort them to their classrooms.